Virtual hosting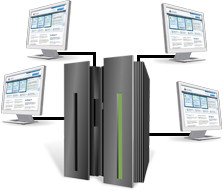 Virtual hosting is an opportunity to quickly open a new website or transfer an existing one to our platform.
This is the most cost-effective solution for personal websites or small Internet projects that do not require dedicated server resources.
You will have a lot of space, personal mail, and support for the most modern technologies.
Each tariff is provided with:
Support for Perl and PHP scripts.
The unlimited number of mailboxes, domain aliases, subdomains, FTP logins, scheduled tasks.
A convenient cPanel hosting control panel in Russian.
Manage your email, files, and databases directly from the browser!
Support for Bitrix, WordPress, Joomla, Drupal CMS systems.
Protection of mail from spam and viruses. Access via SMTP/POP3/IMAP protocols with SSL encryption support.
Daily backup and the ability to make backups independently at any time.
Unlimited traffic.
Quick and attentive technical support operates 24 hours, 7 days a week.