Virtual Desktop as a service (DaaS)
Desktop-as-a-Service is a service that allows you to be independent of the physical location of your workplace. An Internet connection and a thin client are sufficient.
Stick is a device that turns any monitor with HDMI-connector into a fully-featured thin client.
Arguments for DaaS

It is possible to organize workplaces in the office quickly with minimal initial costs.

The solution works evolutionarily, not revolutionary. You can use any equipment stock you already have as a thin client, in the future buying sticks for replacement, or when expanding the staff.

Access to a fully-featured workplace for traveling employees (business trips, sales representatives).


Ability to change / add software, licenses, resources dynamically.

Fault tolerance due to multiple duplication of information.

In case of unexpected situations in the office, you can only lose easily replaceable equipment, and the data won't be lost.

Full compliance with 152-FZ and GDPR.

If you purchase a solution based on a European cloud, then working with it is regulated by European laws, which are not subject to the restrictions given by Federal Supervision Agency for Information Technologies, Communications and Mass Media (RKN).

Centralized support service: settings, control and rules usage, unified statistics.

The solution is easily scalable and can be connected by 1 employee - pay as needed.

It's easy to relocate an office or individual staff members immediately. VPN between office and data center. There is no need to keep your IT department any longer.

Additional protection of the greatest amount of corporate information.

A stable Internet of 1-2 Mbit is enough for one user. Work via 3G / 4G is possible.

An office of 70 people comfortably operates at 100 Mbit (both with Moscow and the Czech Republic).

An integrated internal secure network among all locations: offices, remote employees' workstations.

Working with Skype, messengers, printers, offices, mail, 1C without any problems. The possibility to install your own software.

In case of a power cut in the office, the infrastructure does not interrupt its work.

The data center's Internet connection speed is higher than that of an ordinary computer, and all files are loaded faster. You see only the image on your monitor, which does not require a lot of data transfer.
Why Stick?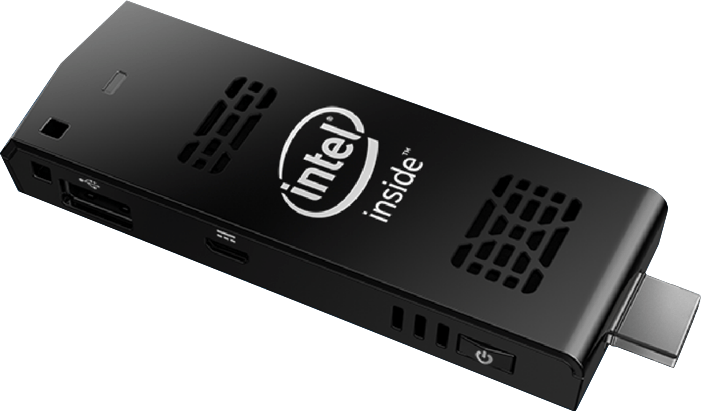 The cost of a stick which is already powerful enough to perform traditional basic tasks: Internet + Office + Multimedia, is only about $ 100.

The cost of a stick which is already powerful enough to perform traditional basic tasks: Internet + Office + Multimedia, is only about $ 100.

Intel Compute Sticks come with a pre-installed version of the licensed Windows operating system, and you won't face fines.

It does not take up space on the table or under the table. The device is about the size of a pack of chewing gum.

No moving parts, no noise, no clogging with dust, no heating under load.

Power consumption at peak loads usually does not exceed 5 W.

Time of deployment of 1 workplace - 10 minutes.

It does not require the assignment of a system administrator for maintenance. We will set everything up once – salary savings in the amount of 130,000-215,000 rubles per month.

If the stick is broken, the replacement will not take much time – just take a new one from the closet, enter your username-password and work on.

Connects to any monitor via HDMI. Powered by microUSB. Internet - Wi-Fi. Input devices - USB, or Bluetooth.
It is not necessary to buy sticks from us, you can work with your own supplier.
Calculator
Preliminary estimate. The cost can range from 1 to 5 thousand rubles per workplace. The final cost depends on the required security mode, the size of file storage, and the programs required to use.
Still not sure?

We provide 24/7 support in Russian, English and Czech.

Payment can be made in any way that is convenient for you.

We work with any region of the Russian Federation.

Full support for moving to a virtual office.

The possibility of remote shutdown.

A "red button" for each employee and a common one for the owner.